Catembe and its Swazi & Maputaland connection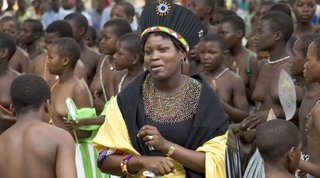 Although officially and administratively a part of the Maputo Municipality, Catembe has retained its own distinctive cultural and historical identity.
Catembe (literally, the place of the Tembe) is the ancestral home of the powerful lineage of Chief Maputo. According to oral history, the Tembe originally came from a place close to Great Zimbabwe, and migrated down along the Eastern seaboard through Macaneta, finally settling in Delagoa Bay (present-day Maputo) around the 17th century. While the Tembe people established themselves here, some groups chose to move further South towards Santa Lucia in South Africa and over the Lebombo mountain range, into Swaziland. Today the Swazi royal lineage still traces its ancestry to Catembe and once a year, in December, the King´s most trusted warriors travel to Catembe to collect water from the Ocean in a secret location; the water is used in the annual Ncwala ceremony, celebrating the King´s power.
The historical ties between Southern Mozambique, South Africa (Maputaland) and Swaziland are also evident from shared cultural traditions – such as the annual brewing of canju (marula beer) in January/February, which no one is allowed to consume before it has been ritually presented to the King/lineage elders. This custom is observed in Catembe, Maputaland and Swaziland.  The canju symbolizes the unity of the group, and may not be sold, but must be brewed at home and shared with family, friends and neighbours.
Another group that has influenced the cultural identity of Catembe is the community of Goan fishermen. Emigrating from Goa in the 19th century, they settled in Catembe and dedicated themselves to fishing, bringing with them distinctive culinary and religious customs.
Today, the urban district of Catembe is home to approximately 25 000 residents, of who many are reliant on subsistence farming, traditional fishery and formal employment in Maputo. However, Catembe is slated to become one of Mozambique´s fastest growing areas with the planned construction of a bridge linking Catembe to Maputo as well as a modern road network linking it to the Pretoria/Johannesburg-Witbank-Maputo and Maputo-Durban corridors.